EDIT MAIN
Crush Softball (Co-op with Louisville Public School)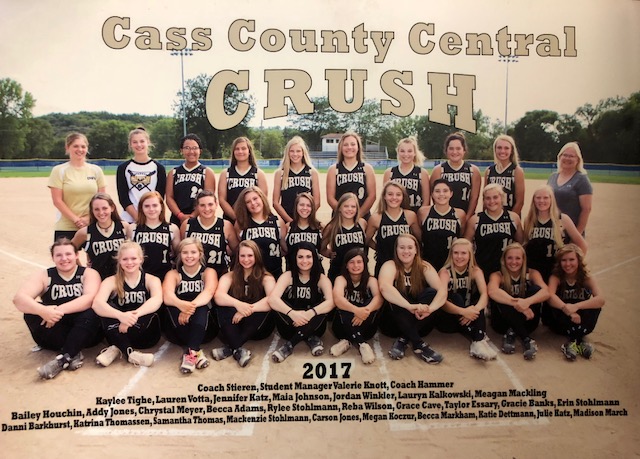 TEAM ROSTER for CASS COUNTY CENTRAL CRUSH - 2017
| | | | |
| --- | --- | --- | --- |
| No. | Name | Position | Grade |
| 1 | Addy Jones | IF | 9 |
| 2 | Katie Dettmann | 3B | 12 |
| 3 | Julie Katz | P | 12 |
| 4 | Jennifer Katz | P/OF | 9 |
| 5 | Reba Wilson | Utility | 9 |
| 6 | Mackenzie Stohlmann | 2B | 12 |
| 7 | Madison March | OF | 12 |
| 8 | Bailey Houchin | IF | 10 |
| 9 | Maia Johnson | LF | 11 |
| 10 | Katrina Thomassen | Utility | 12 |
| 11 | Megan Koczur | Utility | 12 |
| 12 | Jordan Winkler | IF | 11 |
| 13 | Meagan Mackling | SS | 11 |
| 14 | Lauryn Kalkowski | 1B | 11 |
| 16 | Rylee Stohlmann | OF | 10 |
| 17 | Erin Stohlmann | IF | 9 |
| 18 | Taylor Essary | Utility | 11 |
| 19 | Grace Banks | OF | 10 |
| 20 | Grace Cave | 3B | 9 |
| 21 | Chrystal Meyer | P | 10 |
| 22 | Kaylee Tighe | OF | 10 |
| 23 | Samantha Thomas | CF | 12 |
| 24 | Becca Adams | OF | 9 |
| | | | |
| --- | --- | --- | --- |
| 25 | Valerie Knott | OF/C | 10 |
| 26 | Lauren Votta | C | 9 |
| 27 | Danni Barkhurst | Utility | 12 |
Co-Head Coaches - Kim Hammer and Molly Stieren
Student Managers - Tory Lamkins, Trey Lamkins
SEASON RECORDS:
2017: 16-15
2016: 13-15
2015: 6-23
2014: 6-19
2013: 15-10
2012: 10-15
2011: 15-13
2010: 22-13 ---4th Place finish at NSAA State Tourney
2009: 18-10
2008: 9-14
The coop softball program of Weeping Water and Louisville is completing its 10th year. The team had 26 girls this year and is playing a complete JV and Varsity schedule. The Varsity girls recently won the Syracuse tourney. They defeated Nebraska City 2-1, Auburn 3-2 and defeated Syracuse for the championship 13-4 in 5 innings. Maxpreps listed the team as having the 3rd toughest schedule in Class C this year. We competed well and ended up defeating Arlington by the mercy rule, who then went on to finish 3rd at State. We faced Auburn 3 times this season defeating them once and losing twice. Conestoga was also a constant in our season as we faced them 4 times. We faced state runner-up and conference champion Malcolm twice. We finished in 3rd place at our district. This was an outstanding year, although we didn't get to play in Hastings, we feel that our many successes on the field will serve future Crush teams as well as the future plans of the girls on this team. It was an exciting season!
2017 POST SEASON HONORS:
All-Conference: 1st team: Julie Katz; 2nd team: Meagan Mackling, Katrina Thomassen; Honorable Mention: Katie Dettmann, Lauren Votta
Omaha World Herald All-State: 2nd Team - Julie Katz: Honorable Mention: Katrina Thomassen, Lauren Votta
Lincoln Journal All-State: Honorable Mention: Julie Katz, Meagan Mackling
NSAA Scholar Athletes: Julie Katz, Danni Barkhurst
TEAM RECORDS:
Cass County holds the All-Class State Record for most bases stolen in a game with 23 vs. Lincoln High in 2011.
Maia Johnson shares the State Class C record for most RBIs in a game at 9, vs. Friend in 2017.